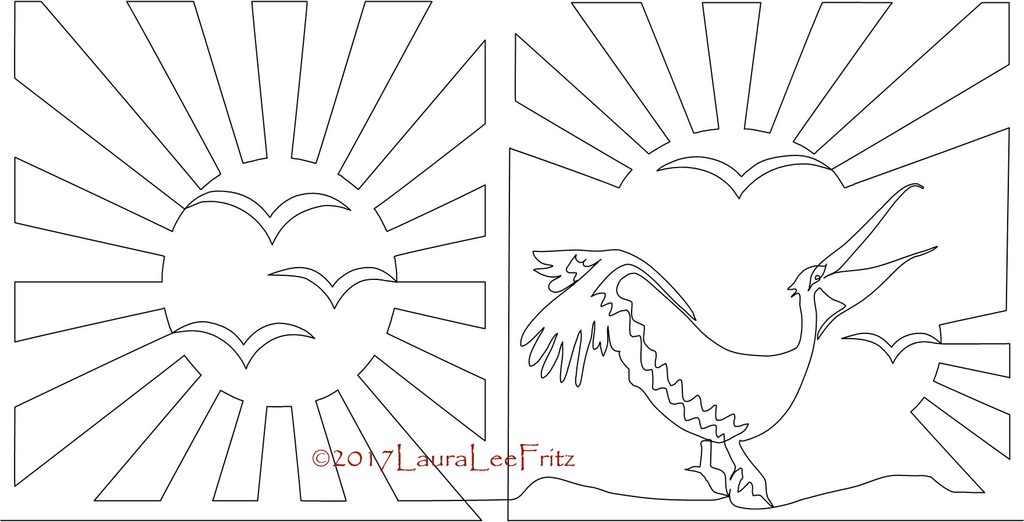 ---
This bookcover pattern could also be used as a pantograph (e2e) pattern, since the start and stop points are the same. HOWEVER, the spacing between the image areas is better for overall quilting if you use the Pelican Sunset Panto.
This pelican was entertaining me in Mazatlan, catching fish scraps as the fishermen cleaned their catch late mornings.
This bookcover is designed to stitch at anywhere from 12" wide to 20" or more, but to cover a standard composition book, make the cover wide enough to wrap around the book (measured when closed), plus 2-4" each side to be the flaps which you insert the covers into. Add 1/2" of height, to the book measurement.
I like to leave a bit of breathing room around the images, so if the book measurement is 18", sew the pattern so the main images are 16" wide.
Some of my designs have elements which are just background, designed to bleed the background around about 2" into the flap.  In this case, make your block or boundary size 20" for a standard composition book.
See photos of my finished books, in the Gift Shop section of my top menu.
---
Share this Product
---
More from this collection